Starting in May and finishing in June, the Korean Cultural Centre is running their second curated mini-season of the year.  This season is focusses on stories of immigration to South Korea: from North Korea, Vietnam, Burma, Vietnam, and Bangladesh along with diasporic Koreans. It has been curated by students from the Film Studies Programming and Curation MA at the National Film and Television School: Maria Bolocan, Mark Donaldson, Andrew Espe, Irene Silvera Frischknecht, Roberto González, Maureen Gueunet, David Perrin and Nicolas Raffin.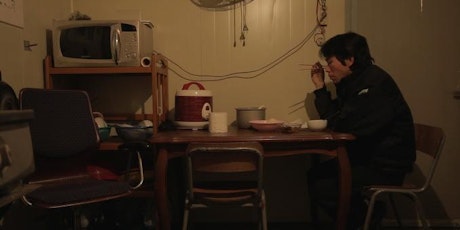 The programme was launched on Thursday, April 27th at 19:00 with the UK premiere of Burmese on The Roof (2016)which follows three "unnamed" Burmese migrants from very different socio-economic backgrounds who live together on a prefabricated hut on the rooftop of Masoek Furniture Industrial Corporation. The film captures their everyday life in fine detail without constructing them in terms of irreducible difference providing an insight into the struggles of living and working away from home.
Bandhobi (Shin Dong-il: 2009).
Date: 3rd May 2017
Time: 7:00 pm
Bandhobi centres around the relationship between Min-seo (Baek Jin-hee), 17-year old Korean girl who has a difficult relationship with her mother and her mother's lover with whom she lives, and Karim (Mahbub Alam), a 29 year old migrant from Bangladesh whose work visa is about to expire.
The film is showing at the Korean Cultural Centre in London, which is just a three minute walk from Charing Cross Station. Tickets can be booked through Eventbrite.
Scenery (Zhang Lu: 2013)
Date: 11th May 2017 & 31st May (Deptford Cinema)
Time: 7pm
Venue: Korean Cultural Centre
The third film in this mini-season is Scenery, a documentary which follows fourteen migrant workers as they live and work in a foreign country. Clips of interviews with them are combined with footage of their everyday lives. Zhang Lu is a Korean-Chinese film director, who prior to directing was a Professor of Chinese Literature at Yabain University,  whose films focus on the marginalised and disenfranchised. Scenary is adapted from his 30 minute short documentary, Over There, which was shown at the 14th Jeonju Digital Film Festival as part of a strand on the theme of strangers. Scenery is Zhang Lu's first full length documentary and has won multiple awards including the Critics Prize at the 15th Black Movie Independent Film Festival in Geneva.
Booking via Eventbrite
The Journals of Musan (Park Jung-bam: 2011)
Date: 1st June 2017
Time: 7pm
Venue: Korean Cultural Centre
In The Journals of Musan, a North Korean defector Seung-chul (Park Jung-bam) who barely makes a living putting up posters of sex shops in Seoul. He lives in a crumbling apartment house on the outskirts of the city with another defector, Kyung-chul (Jin Yong-ik). Unlike his roommate who embraces the South Korean 'dream', Seung-chul finds it difficult to adjust to his new life. The Journals of Musan offers an insight into the often marginalised and alienated lives lived by those who cross the border from North to South Korea.
Tickets can be booked via Eventbrite.
Seoul Searching (Benson Lee: 2015)
Date: 8th June 2017
Time: 7pm
Venue: Korean Cultural Centre
Seoul Searching is a South Korean teenage movie. Set in 1986, the film focusses on experiences of ethnic-Asian teenagers at a Summer camp in Seoul which seeks to teach the teenagers about their Korean heritage. Loosely based upon Lee's own experiences, Seoul Searching has been compared to the US teen pictures of the 1980s such as The Breakfast Club (John Hughes: 1985). In Justin Chang's review for Variety, he makes a direct comparison by calling the film the "Bibimbap Breakfast Club." It examines the complexity of cultural identity for second and third generation diasporic Koreans.
Tickets can be booked via Eventbrite.
He's On Duty (Yook Sang-hyo: 2013)
Date: 15 June
Time: 7pm
Venue: Korean Cultural Centre
He's On Duty explores the racism and marginalisation that migrants working in South Korea face through the experiences that Bang Tae-sik (Kim Im-kwon), a South Korean national, who pretends that he is from Bhutan in order to find work as he feels that he is discriminated against because he doesn't look 'Korean' enough. The film uses comedy to expose the hardships that migrant workers face when working in a country with a strong sense of national identity which is based upon ethnic difference.
Tickets can be booked from Eventbrite.
The film is also showing at SOAS, on 12th May at 5:15pm. Tickets can be booked via SOAS.
The students at the National Film School have done a really great job curating this season. In post-Brexit Britain, we can all learn something from the experiences of 'Others', whether they are fictional or factual. I would highly recommend that people catch at least one if not more of the films in this season.