After the success of 'Chills and Thrills' and 'On Foreign Ground: Visions of Migration', the KCCUK is in the middle of its third mini-season of 2017. The title refers to Kim Hong-joon's My Korean Cinema (2002-2006). Details of which are here. Kim leant his trade as an assistant to Im Kwon-taek, one of South Korean's most noted and prolific directors. My Korean Cinema is a personal video series which stems from his work as a director at PiFAN Fantastic Film Fest and Commissioner for Korean Film Commission.
This strand has been curated by students on Birkbeck's Film Programming and Curating MA.
Films coming up in this strand are as below:
The Knitting Club (Ya-geun Dae-sin Tteu-gae-jil, dir. PARK So-hyun: 2016).
This documentary focusses on Nana and her co-workers who start up a knitting club in order to bring some creativity and companionship in a world dominated by work and alienation. The underlying message of the documentary is that change is always possible, even if it happens in the most subtle of ways.
Date: 3rd August 2017
Time: 7:00 pm
Location: KCCUK
Booking: free via Eventbrite.
The March of Fools (Ba-bo-deul-ui Haeng-jin, dir. HA Gil-jong: 1977).
One of the most important and influential films in South Korean cinematic history, The March of Fools has rarely been screened outside of Korea. The film concerns the relationship between a philosophy student, Byeong-tae (Yoon Moon-seob) and a French literature student, Young-jae (Lee Young-ok) who get together after a group blind date between the male philosophy students and the female French students. The relationship between Byeong-tae and Young-jae has no future as he has passed the mandatory physical for military service. While the 1960s and 1970s was a time of youthful rebellion as documented in many films of the time, the protagonists in The March of Fools are represented as directionless: Young-cheol's (Ha Jae-young), Byeong-tae's best friend, goal in life is to catch a whale even though there are no whales on the Korean peninsula. While there is an implicit critique of the status quo in the film, scenes of student demonstrations (keeping in mind that this was produced by a director who experienced those of 6th May 1961) were cut from the theatrical version.
Date: 10th August
Time: 7:00 pm
Location: KCCUK
Booking: free via Eventbrite
Garak Market Revolution (Janggiwang: Galaksijang Lebollusyeon, dir. Jung Da-won, 2016).
This social-issue class based comedy focusses on the lives of contemporary youths in South Korea especially in the light of high unemployment. The protagonist, Doo-soo, doesn't want to become a white-collar worker, instead he starts working at Garak Market as a labourer. Doo-soo is also a master of the Korean chess game, Janggi and when he discovers that the local homeless centre is due for demolition, he attempts to save it by challenging the owner to a game of chess.
The short film A Tent (Cheon-mak, dir. Lee hee, 2016) is also being screened.
Date: 17th August
Time: 7:00 pm
Location: KCCUK
Booking: free via Eventbrite
La Vie En Rose (Jangmi bit insaeng, dir. Kim Hong-joon: 1994) and conversation with the director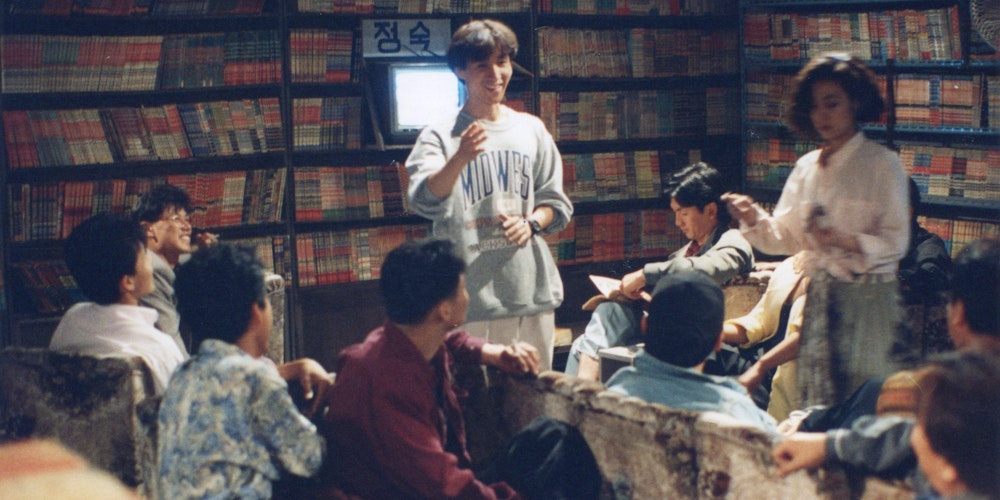 Set just before the Seoul Olympics of 1988, La Vie En Rose focuses on the disparate lives of a group of people who frequent a comic book rental shop which is run by Madam (Choi Myung-gil). The patrons are almost all men, and those who stay overnight at the shop get the extra benefit of being able to watch pornographic films. One day, Madam's life is irrevocably altered when one day Dongpal (Choi Jae-sung), a gangster, seeks sanctuary from the police at the comic shop. He becomes obsessed with her and rapes her, altering both of their lives forever. Set at a time of turmoil in South Korean history, La Vie En Rose offers a nuanced exploration of the lives of people on the margins of society and their attempt to escape from the harshness of their lives.
This is a great opportunity to learn more about Korean cinema from the director, Kim Jong-hoon's whose work has inspired this mini-season of South Korean films.
Date: 24th August
Time: 7:00 pm
Location: Birbeck Institute for the Moving Arts.
Booking: free via Eventbrite
A Talk on the Homage Film: Director Kim Hong-joon
This mini-season comes to an end with a special event at Birkbeck in which the director Kim Hong-joon will talk about the 'homage' film in relation to the idea of the video essay film. Videoessays are a much more entertaining way of learning about film than by reading alone and feature prominently on most film studies curricula.
Excerpts from the following five short homage films will be presented:
The Cinematic World of Im Kwon-taek: Four Keywords-Tradition, Love, History and Road (2010)
12 Shorts for Chung Chang-hwa Retrospective (2011)

Life Imitates Film: Looking Back on Choi Eun-hee (2013)
Kim Ki-deok: A Frontier-man of Chungmu-Ro (2016)
Ahn Sung-ki: A Persona of the Korean Cinema (2017)
Date: 25th August
Time: 7:00 pm
Location: Birkbeck Institute for the Moving Arts
Booking: free via Eventbrite.